Lawn Edging | Garden edging | Garden border edging | Flexible lawn edging 20 cm x 10 metres
If you want to structure your garden and separate beds and lawns, you cannot avoid using a suitable lawn edging. Our metal lawn edging strip is the ideal choice for this purpose. The special aluminium-zinc alloy ensures a long service life and a high-quality look, while a Lawn Edging in the form of a practical band also allows for particularly flexible and easy laying.
Why it's neneficial to use lawn edging tape
The use of lawn edging tape brings many advantages. On the one hand, the high-quality lawn edging ensures that your garden has a clear structure. On the other hand, laying a lawn edging tape is a very good way to avoid unwanted growth of the grass into the adjacent beds.
In addition, a lawn edging strip makes it easier for you to mow the lawn in the border areas, so that you can bring your painstakingly maintained lawn into shape particularly well.
Our metal lawn edging tape is the perfect choice
Our metal lawn edging tape is characterised by high quality and excellent stability. The tape is made of a special aluminium-zinc alloy. This ensures that the lawn edging tape is weather-resistant and rust-free.
The 20 centimetre wide tape is available on rolls in 10 metre lengths. The material thickness of 0.7 millimetres ensures that the tape can be bent without any problems while still guaranteeing high stability.
Besides this, our metal lawn edging tape can score points with its particularly high-quality look. The material changes its colour only slightly, so you can be sure that your lawn edging will permanently retain its attractive appearance and will not look worn or weathered after just a short time.
Metal lawn edging tape alternatively also suitable as a bed edging  
Of course, the uses of our aluminium/zinc lawn edging tape are not limited to its use as a border for your lawn. In addition, you can of course also use the robust and high-quality tape as a bed edging.
With a metal lawn edging strip, you are opting for a high-quality bed edging with which you can give your flower and vegetable beds a clear structure and at the same time prevent the unwanted growth of roots and plants.
Why metal lawn edging tape is superior to PVC
Lawn edging tape is not only available in metal, but also in PVC. The latter is characterised above all by its low price, which seems to make it a bargain, at least at first glance.
After installation, however, it usually becomes quickly apparent that PVC lawn edging tape is clearly inferior to metal. This is because the material cannot compete with our aluminium/zinc products either in terms of stability and durability or in terms of appearance. It is usually only a matter of time before lawn edging tape made of PVC shows the first signs of damage and replacement is therefore necessary.
Even Lawn Edgings made of stone cannot always convince
Whoever values high stability and a long service life often considers stones as an alternative to metal lawn edging. In terms of stability and appearance, such lawn edging can definitely compete with materials such as aluminium/zinc.
However, laying a stone Lawn Edging is usually very time-consuming. In addition, at least certain types of stone are often quite expensive, so that a metal lawn edging strip is ultimately the better choice.
How to install a metal lawn edging strip?
Our metal lawn edging tape is not only characterised by its good quality. It is also very easy to install. The use of expensive special tools is just as unnecessary as special expertise. Any questions that may arise are answered directly in the easy-to-understand installation instructions, so that even inexperienced hobby gardeners should have no problem laying it.
In addition, our flexible lawn edging tape can be easily cut to the required length and easily brought into the right shape, so that, for example, round lawn borders are no problem.
Of course, you will also find the matching accessories in our shop, such as ground anchors, corners and connectors, which you can use when laying your metal lawn edging strip.
The biggest advantages of our metal lawn edging tape made of aluminium/zinc at a glance:
Long-lasting and rust-free thanks to high-quality aluminium-zinc alloy

Assembly possible without expensive special tools or special expertise

Customizable and easy to install

Perfect as a high-quality Lawn Edging or bed edging

Accessories such as ground anchors available directly in the shop
Buy High Quality Metal Lawn Edging Tape Online
With our metal lawn edging tape, you are opting for a high-quality product made of a rustproof aluminium-zinc alloy that knows how to convince both in terms of quality and appearance.
Order your metal lawn edging tape and the corresponding accessories, such as corners, connectors and ground anchors, conveniently in our online shop. We will deliver your order quickly and reliably so that you can soon start laying your lawn edging tape. But it's best to see for yourself. We are convinced that you will be more than satisfied with our metal lawn edging tape.
Additional installation requires 



Ground anchor for narrow Lawn Edgings and Lawn Edging tape 40 x 2.6 x 0.2 cm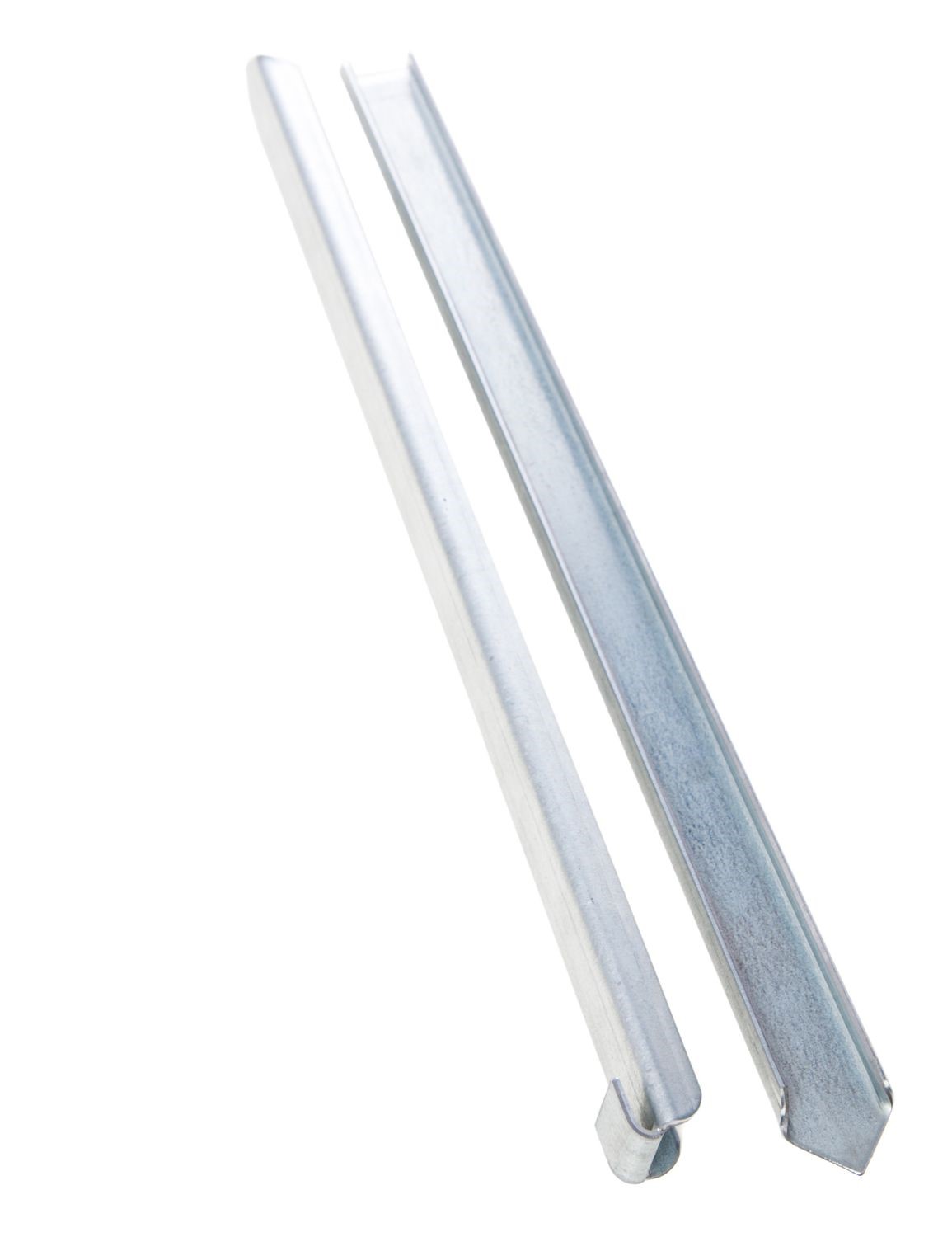 Mass/Size: 1000 cm x 20 cm x 0.7 mm
Weight: 10 kg
| | |
| --- | --- |
| Art.-ID | 453621 |
| Zustand | New |
| Hersteller | Green-Split |
| Herstellungsland | Germany |
| Inhalt | 10 meter |
| Gewicht | 10000 g |
| Maße | 500×500×200mm |
Flexible lawn edging 20 cm x 10 metres | Garden edging | Garden border edging
---
Artikelnummer RKB-ALU-20-10
Ready to be delivered within 24 hours!
---
Fast delivery We deliver fast. With DHL your package will be with you in a short time!
Top Quality Highest quality products from world leading manufacturers!
Customer satisfaction More than 90% of our customers are satisfied & recommend us to others.
Sicherheit Sicheres Online-Shopping mit SSL-Zertifikat.